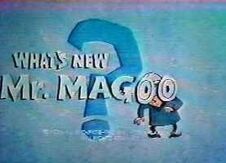 What's New, Mr. Magoo was a CBS network animated series that was created by Millard Kaufman and John Hubley.
It premiered on September 10, 1977. The voice cast consisted of Jim Backus, Bob Ogle, Casey Kasem, Frank Welker and Hal Smith.
On December 24, 1977, "What's New, Mr. Magoo" was cancelled after only one season and 16 episodes.