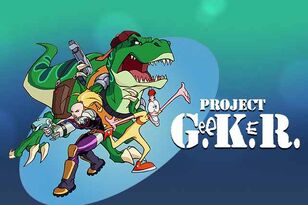 Project G.e.e.K.e.R. was a Syndication network animated series created by Douglas TenNapel and Doug Langdale (who created the animated series "Earthworm Jim").
The show aired from September 14 to December 7, 1996, lasting for one season & 13 episodes.
It was produced by Doug², Adelaide Productions and Columbia TriStar Television.
Plot
Set in the future, the series was centered around a genetic shapeshifter experiment known as Project GKR (Geno-Kinetic Research), who had been stolen by Lady MacBeth (a short-tempered cyborg with a bionic arm) before he could get the programming he needed to be a deadly and powerful weapon at the hands of the evil Mister Moloch, head of Moloch Industries.
Due to the lack of his final programming, "GeeKeR" is left to be a totally random, permanently salivating, four-fingered klutz. He only occasionally manages to use his powers to any full extent which is a blessing and a threat to his friends and their enemies.
Lady MacBeth and her partner-in-crime Noah, a baseball cap wearing intelligent Tyrannosaurus rex, must now prevent Moloch and GeeKeR's creator Dr. Maston from ever obtaining GeeKeR at all costs.
Voice Cast
Billy West as G.e.e.K.e.R., Additional Voices
Cree Summer as Lady MacBeth, Nanny, Sonny, Additional Voices
Charles Adler as Dr. Maston, Jake Dragonn, Gene Damage, Additional Voices
Jim Cummings as Mister Moloch, Will Dragonn, Cosmotto, Additional Voices
Brad Garrett as Noah, Captain Wormhole