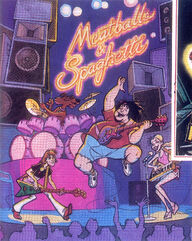 Meatballs & Spaghetti was a CBS network Saturday morning cartoon created by Fred Silverman & Jerry Eisenberg, and produced by Intermedia Entertainment Company & Marvel Productions.
The show aired from September 18, 1982 to March 5, 1983, lasting for one season & 25 episodes. It aired on CBS's Saturday morning cartoon programming block, Starcade.
The series centered on Meatballs & Spaghetti, a husband-and-wife singing duo who roamed the country in a mobile home with their friend Clyde (who played the bass) and their dog Woofer (who played the drums).
Voice Cast
Edit
Ron Masak as Meatballs
Sally Julian as Spaghetti
Frank Welker as Woofer
Barry Gordon as Clyde
Additional Voice Cast
Jack Angel
Wally Burr
Phillip Clarke
Regis Cordic
Peter Cullen
Ronald Gans
David Hall
Margan Lofting
Bill Ratner
Ronnie Schell
Marilyn Schreffler
Hal Smith
Paul Winchell