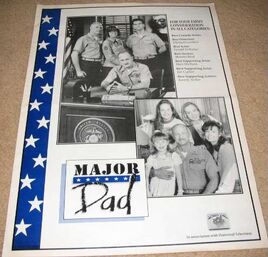 Major Dad was a Syndication network sitcom, created by Richard C. Okie & John G. Stephens & developed by Earl Pomerantz, starring Gerald McRaney in the lead role.
The show premiered on September 17, 1989 and ended on May 16, 1993 after 4 seasons & 96 episodes.
Plot
The show centered on Major John MacGillis, a conversative, by-the-book man working for United States Marine Corps who meets Polly Cooper, a liberal journalist with three daughters: Elizabeth, Robin & Casey, and get married where Polly & her children have to learn how to deal with being a Marine family while Major MacGillis has to learn how to be a father.
Cast
Gerald McRaney as Major John D. "Mac" McGillis
Shanna Reed as Polly Cooper McGillis
Marisa Ryan as Elizabeth Cooper McGillis
Nicole Dubuc as Robin Cooper McGillis
Chelsea Hertford as Casey Cooper McGillis
Matt Mulhern as Lieutenant Eugene "Gene" Holowachuk
Marlon Archey as Sergeant Byron James (season 1)
Whitney Kershaw as Merilee Gunderson (season 1)
Beverly Archer as Gunnery Sergeant Alva "Gunny" Bricker (seasons 2-4)
Ratings
Season 1: #45
Season 2: #22
Season 3: #9
Season 4: #69
Accolades
Year
Award
Result
Category
Recipient
1992
BMI Film & TV Award
Won
BMI TV Music Award
Steve Dorff
1992
Primetime Emmy Award
Nominated
Outstanding Individual Achievement in Main Title Theme Music
Steve Dorff
1990
Young Artist Awards
Nominated
Best Young Actress Starring in a Television Series
Chelsea Hertford
Won
Best New Television Series

-

1991
Nominated
Best Young Actress Starring in a Television Series
Marisa Ryan
Best Young Actress Starring in a Television Series
Chelsea Hertford
Best Young Actress Starring in a Television Series
Nicole Dubuc
Best Young Actor Supporting or Re-Occurring Role for a TV Series
Chance Michael Corbitt
1992
Nominated
Best Young Actress Starring in a Television Series
Marisa Ryan
1993
Nominated
Outstanding Actress Under Ten in a Television Series
Chelsea Hertford