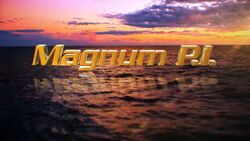 Magnum P.I. is an upcoming American television drama that will aired from CBS on September 24, 2018. This is a reboot of the original series, which aired from 1968 to 1980.
Summary
The series foucs about Thomas Magnum, a decorated ex-Navy SEAL who, upon returning home from Afghanistan, repurposes his military skills to become a private investigator
Cast
Jay Hernandez as Thomas Magnum
Perdita Weeks as Juliet Higgins
Zachary Knighton as Orville "Rick" Wright
Stephen Hill as Theodore "TC" Calvin
Tim Kang as Gordon Katsumoto
Production
Development
On October 20, 2017, the original series has signed on to produce a remake series with Peter M. Lenkov and Eric Guggenheim for CBS, which owns the rights to Magnum, P.I. through its acquisition of the original Bellisaruis Production and Universal Television. In February 2018, it was announced that CBS had greenlit production of a pilot episode written by both Lenkov and Guggenheim also directed by Justin Lin from The Fast and The Furious.
On May 11, 2018, the network picked up the series. Co-creator and executive producer Peter M. Lenkov will serve as the showrunner. On May 16, 2018, CBS released a first video trailer for new series. The Pilot episode was aired as a special preview prior to the series San Diego Comic-Con panel.
On July 19, 2018 it was announced that the series is set to see multiple crossover's with Hawaii Five-0. Lenkov confirmed that Kimee Balmilero and Taylor Wily will make guest appearances as their Hawaii Five-0 characters, medical examiner Noelani Cunha and entrepreneur Kamekona Tupuola respectively. Balmilero is set to appear in episode one while Wily is set to appear in episode two. Meanwhile, Alex O'Loughlin's character, Steve McGarrett, is set to cross paths with Hernandez's character later in the season.
Casting
On February 20, 2018, Jay Hernandez was announced as the new Magnum, also March 2, 2018, Perdita Weeks will play as Juliet Higgins, Magnum's best friend from U.S. army, alongside with Zachary Knighton, who played as Rick Wright on May 16 and another Magnum's friend named Theodore "T.C" Calvin will portrayed as Stephen Hill on March 21, 2018. On July 20, 2018, it was announced that Tim Kang would join the cast as Honolulu PD detective Gordon Katsumoto, who will develop a friendly rivalry with Magnum as they work cases. On July 25, 2018, it was announced Amy Hill had been cast in a recurring role.
Filming
Filming for the first season began on July 23, 2018 with a traditional Hawaiian blessing.
Reception
External links
Community content is available under
CC-BY-SA
unless otherwise noted.