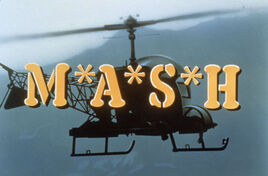 MASH (also stylized as "M*A*S*H") was a Syndication network comedy-drama series based on Richard Hooker's 1968 novel "MASH: A Novel About Three Army Doctors".
The show starred actors Alan Alda, McClean Stevenson, Wayne Rogers, Loretta Swit, Mike Farrell, Jamie Farr, Larry Linville, Harry Morgan, William Christopher, Gary Burghoff and David Odgen Stiers.
It aired from September 17, 1972 and ended on February 28, 1983, lasting for eleven seasons and 256 episodes.
At the time, the series finale became the most-watched & highest-rating single TV episode in U.S. television history with a record-breaking 125 million viewers.
Synopsis
The show focused on the staff of an army hospital during the Korean war.
Cast
Main Cast
Alan Alda as Captain "Hawkeye" Benjamin Franklin Pierce
Loretta Swit as Major Margaret "Hot Lips" Houlihan
Wayne Rogers as Captain "Trapper" John Francis Xavier McIntyre [season 1-3]
McLean Stevenson as Colonel Henry Blake [seasons 1-3]
Larry Linville as Major Frank Burns [seasons 1-5]
Gary Burghoff as Corporal "Radar" O'Reilly [seasons 1 - 7]
Jamie Farr as Corporal Maxwell Q. Klinger [seasons 4-11]
Mike Farrell as Captain B.J. Hunnicutt [seasons 4-11]
Harry Morgan as Colonel Sherman T. Potter [seasons 4-11]
William Christopher as Captain Father John Francis Patrick Mulcahy [seasons 5-11]
David Ogden Stiers as Major Charles Emerson Winchester III [seasons 6 -11]
Community content is available under
CC-BY-SA
unless otherwise noted.