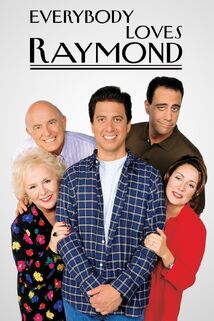 Everybody Loves Raymond was a Syndication network sitcom series created by Philip Rosenthal, starring Ray Romano in the lead role.
The show aired from September 13, 1996, to May 16, 2005, lasting for nine seasons & 210 episodes.
It was produced by Where's Lunch and Worldwide Pants, in association with HBO Independent Productions.
Plot
The series centered on the life of sportswriter Ray Barone, who lives with his wife, Debra & three kids (daughter Ally and twin sons Geoffrey & Michael) in Long Island, New York where his parents, Marie & Frank and brother, Robert happen to live across the street from him.
Cast
Ray Romano as Raymond "Ray" Barone
Patricia Heaton as Debra Barone
Brad Garrett as Robert Barone
Doris Roberts as Marie Barone
Peter Boyle as Frank Barone
Madilyn Sweeten as Ally Barone
Sawyer & Sullivan Sweeten as Michael & Geoffrey Barone
Reception
Ken Tucker of Entertainment Weekly awarded it a "B+" shortly after its debut; he stated that the show's writing wasn't "top-notch", but "Romano manages to communicate something distinctive."
Bruce Fretts (also of Entertainment Weekly) gave the show the same score, said that the show "may now be the best sitcom on the air."
Common Sense Media's Betsy Wallace, who awarded the show four out of five stars, wrote: "the cast is stellar and plotlines shed light on universal human insecurities, such as doubting that your spouse still finds you attractive as you grow older."
However, she warned that the show's "intimacy issues of married couples -- including (in)frequency of sex -- often take center stage," as well as its mild language.
Plugged In said in their review, "Seven years and a mantle full of Emmys later, Raymond is still smartly scripted, now with new characters added to a maturing, expanding family."
In 2013, Complex ranked the show as 49th of "The 50 Funniest TV Comedies of All Time", with writer Matt Barone saying that "You'd want to pat Ray on the shoulder and say, 'We feel for you, man,' if you weren't laughing so hard."
Also in 2013, TV Guide ranked the show at #60 on their "60 Best Series of All Time" list.
Accolades
During its nine seasons, "Everybody Loves Raymond" was nominated for 69 Primetime Emmy Awards, winning 15 of them, including 10 for acting.
The series was also nominated for 21 Screen Actors Guild Awards (1 win) and won the Writers Guild of America Award for Episodic Comedy for the episode, "Italy" in 2002.
Community content is available under
CC-BY-SA
unless otherwise noted.