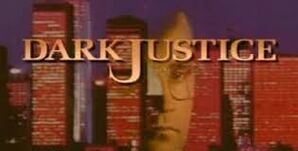 Dark Justice was a CBS network crime drama TV series created by Jeff Freilich.
The show aired from April 5, 1991 to September 28, 1993, lasting for 3 seasons and 66 episodes. It aired as part of CBS's "Crimetime After Primetime" line-up.
Plot
The show centered on a judge who becomes a vigilante by night so that he can bring high-level offenders who use technicalities to "escape" the legal system to what he calls "dark justice."
Cast
Ramy Zada as Judge Nicholas Marshall (1991)
Bruce Abbott as Judge Nicholas Marshall (1992–1993)
Janet Gunn as Kelly Cochrane (1992–1993)
Dick O'Neill as Arnold "Moon" Willis (1991–1993)
Clayton Prince as Jericho "Gibs" Gibson (1991–1993)
Begoña Plaza as Catalana "Cat" Duran (1991)
Viviane Vives as Maria Marti (1991)
Kit Kincannon as District Attorney Ken Horton (1991–1993)
Carrie-Anne Moss as Tara McDonald (1991–1993)
Elisa Heinsohn as Samantha "Sam" Collins (1993)
Community content is available under
CC-BY-SA
unless otherwise noted.