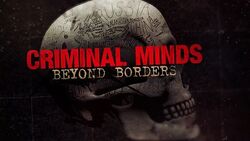 Criminal Minds: Beyond Borders is an American television drama that aired on CBS from March 16, 2016 to May 17, 2017. This was a spin-off series of Criminal Minds.
The series was officially cancelled on May 14, 2017, after two seasons.
Synopsis
The series is about an international division of the FBI that solves crimes involving American citizens in trouble in foreign countries.
Cast
Gary Sinise as Jack Garrett
Alana de la Garza as Clara Seger
Daniel Henney as Matthew Simmons
Tyler James Williams as Russ "Monty" Montgomery
Annie Funke as Mae Jarvis
Seasons overview
Production
A proposed new series in the Criminal Minds franchise was announced in January 2015, and was to be named Criminal Minds: Beyond Borders. Former CSI: NY star Gary Sinise and Anna Gunn had been cast in the lead roles of Jack Garrett and Lily Lambert, with Tyler James Williams and Daniel Henney being cast as Russ "Monty" Montgomery and Matthew "Matt" Simmons, respectively.
On May 8, 2015, CBS announced that Criminal Minds: Beyond Borders had been picked up for the 2015–16 season; however, it was soon announced that Gunn had departed the series, with Alana de la Garza and Annie Funke further being cast as series regulars. The episodes while produced in a certain order, are not aired in that way.
Reception
Critical response
The first season of Criminal Minds: Beyond Borders received generally unfavorable reviews from critics. The review aggregator Rotten Tomatoes gave the first season a 20% of approval with an average rating of 3.5/10, based on 15 reviews, with the critical consensus reading, "Beyond Borders relies on the same characters and storylines the franchise has used for years, with an extra undertow of xenophobic paranoia." On Metacritic, the season was given a score of 28 out of 100, based on 11 critics, indicating "generally unfavorable reviews".
Ratings
Season
Episodes
Time slot (EST)
Original airing
Rank
Viewers
(in millions)
Season première
Season finale
TV season
1
13
Wednesday 10:00 pm (March 16 – May 25, 2016)
Wednesday 9:00 pm (April 6, 2016; May 11 – May 25, 2016)
March 16, 2016
May 25, 2016
2015–16
No. 46
9.02
2
13
Wednesday 10:00 pm (March 8 – May 17, 2017)


Wednesday 9:00 pm (April 12, 2017; May 17, 2017)

March 8, 2017
May 17,2017
2016-17
External links
Videos
Community content is available under
CC-BY-SA
unless otherwise noted.